One of my Christmas gifts this year was one of Rihanna's new Fenty Beauty Matchstix, in Chili Mango. I saw someone wearing this shade on Instagram a while back and instantly fell in love. Given then fact it has a pretty hefty price tag, my lovely boyfriend decided to buy me two for Christmas! One from Harvey Nichols for £21… and one from eBay for something like £3 from China. His argument was that they're both like, the same thing right?!
Well. Let's have a look shall we?
Packaging
Packaging wise, wow! I almost didn't notice these Matchstix were different sizes!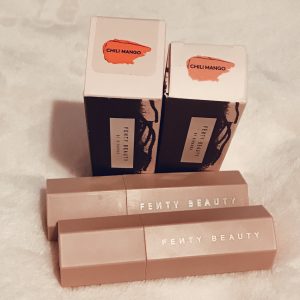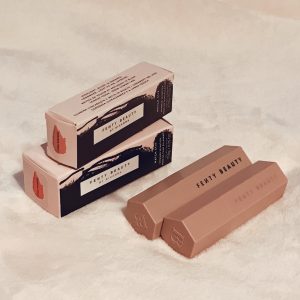 Okay, they're slightly different. Not to mention the colours on the boxes are also rather different shades of orange…
Product Case
Casing wise, they're fairly similar. The fake version is on the left/back in both of these pictures, and you can see it's a tiny bit darker, and while the real version has iridescent 'Fenty Beauty' wording, the fake version is a just a dull silver. Not quite as exciting.
The only other difference is the Matchstix labelling – the real version has an orange label with white text, and the fake version has an orange label with black text. The ingredients are almost the same, and I'm not sure if that's because it was poorly transcribed or because it actually has very slightly different ingredients… I'm going to try not to think about it too much for now.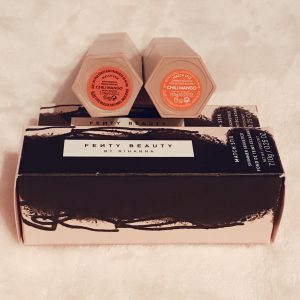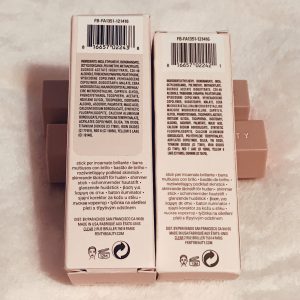 Applicator
But just wait until you get to the applicator! The real version is on the left this time. And it's significantly more substantial in terms of quality, and about twice the size of the fake version.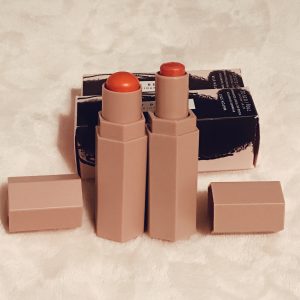 #Swatches
Now it's #swatch time – although the actual sticks look pretty similar in colour, they're closer to the colours on the box. The real version is an amazing vibrant orange with highlights of really beautiful shimmery gold, and the fake version is more of a rose gold. They're both really nice actually, but the fake version isn't going to deliver the colour if you actually want a Matchstix in Chili Mango.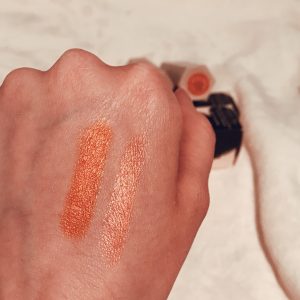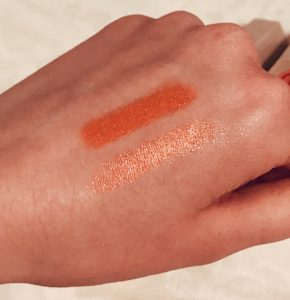 Finally, the texture of these was totally different. The fake version is a little bit sticky to the touch, but not bad. Whereas the real version is really soft and creamy, and when you rub/blend it it just turns into a really beautiful pale bronzey/goldy/orangey colour that is just perfect.
Tl;dr, don't get the fake one if you want Chili Mango. It's not the same. But if you fancy a mystery shade (seeing as the eBay listing uses the actual Fenty images) then for the price, why not go for it?
Until next time!
Emily x
Extra bonus footage: Freya was getting jealous of my photoshoot setup.